Backed By Superior Customer Support
At your side. On your side.
You have an office to run, staff to manage and patients coming in every day. With all that work to do it's good to know that a team of IT professionals, graphic designers and customer support is at your side when you need it. We've created a web editor to give you as much control (or as little) as you want and for those times when you need a little extra help, a customer service representative is just a phone call away.
M-F | 8 - 5 MST or Email Us: info@dentistapple.com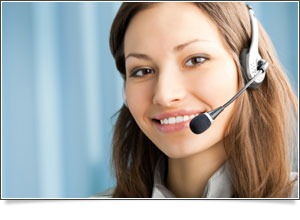 Yes. We make it easy for you to add your own text, photos, videos and even new pages! Our Site Editor is easy to learn, intuitive and powerful.
Domain pointing? SEO? SMM? Is there someone I can call when I get stuck?
Absolutely. DentistApple.com gives you UNLIMITED customer support to ensure you get the most out of your website.
Do I need to write my own content?
Your site comes preloaded with dozens of pages full of professionally written content. Of course if you DO have content that you've written, our Site Editor makes it easy to add and style exactly how you want it.
I need a website as soon as possible. How long will it take before my site is ready?
In most cases, we can have you ready to go in less than 48 hours! Please allow extra time for custom designs, additional content and domain transfers.
We understand each doctor is different, so we created beautiful website designs to fit almost everyone. Plus, if your office already has an established identity, we can affordably customize the site to match your current branding.
How can I get my site found on Google?
With millions of online searches for 'dentist' happening every month, we understand you want a piece of the action. Search engines play a crucial role in running a successful practice in today's world and we recognize the need to get you ranked as high as possible. We begin by registering you on Google Places and making sure the contact information is correct and up-to date. Our sites are Search Engine optimized (SEO) with keywords relevant to your specific office. Plus, we offer training and SEO/Social Media consultations to introduce you to this new way of doing business.
How can I stay in contact with my patients after they leave the office?
DentistApple.com has many features that you can integrate with your website. You can add monthly newsletters, eCards, email updates and even appointment reminders.
That's easy! Simply call us at 1-888-364-5774 so we can help you choose a skin, find a perfect domain name and get you online as soon as possible so you can start growing your business.